Recent News & Updates
Join our free email list about BNAC events and activities.
JOIN NOW
17th Annual Nepal Lecture, 14 Nov 2019
June 24, 2019
Lecture title:
'Nepal's Contemporary Linguistic Landscape:  Its Implications for Language Endangerment and Mother Tongue-Based Multilingual Education'
(नेपालको समसामयिक भाषिक परिदृश्य: भाषिक सङ्कटापन्नता तथा मातृभाषामा आधारित बहुभाषिक शिक्षामा यसको प्रभाव)
By: Emeritus Prof. Dr. Yogendra P. Yadava, Tribhuvan University, Kathmandu Nepal, and Pragya, Nepal Academy.
Date, time and venue:
Date: Thursday, 14 November 2019
Time: Reception to start at 17.30. Lecture to start at 18.30
Venue: Reception at Paul Webley Wing Balcony, and the Lecture at Brunei Gallery Lecture Theatre
SOAS, Russell Square, London WC1H 0XG
Hosted by: SOAS, South Asian Institute.
Sponsored by: Kris Foods Ltd., London (Krishna Timalsena)
Poster: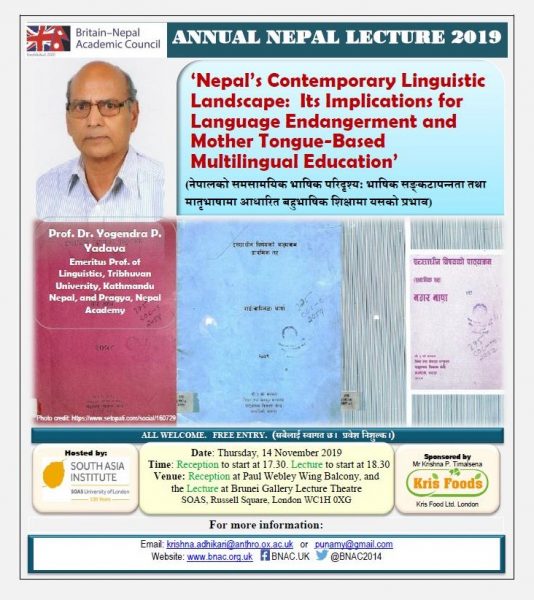 Download poster : PDF (618kb)
Abstract:
South Asia presents a complex linguistic landscape with a huge number of languages and dialects of diverse genetic affiliation. Nepal is not immune to this linguistic complexity: according to the 2011 Census there are 123 languages, most of which are marginalized and lack literacy, documentation, and intergenerational transmission; they are therefore threatened with extinction. Following the advent of democracy in 1990 and the rise of the politics of ethnicity, Nepal has adopted a policy of providing children with basic education in the mother tongue at community schools. There are many questions, however, about the extent to which this policy has in fact been implemented and what its implications are, both for basic education and for the survival of local languages.
This lecture will discuss the current context of the languages used in Nepal and the questions of language endangerment and language-in-education (LiE) policy and practices. The basic facts of Nepal's linguistic landscape, including demography, genetic affiliations, literacy, and documentation, will be presented. Then, using the key variables proposed by UNESCO (2003) and following Lewis and Simons (2010)[1], the state of language vitality and endangerment in Nepal will be assessed. The Baram language, a seriously endangered language spoken in Gorkha district, and Puma and Chhintang languages spoken in eastern Nepal, will be taken as case studies in order to focus on the issue of intergenerational transmission and the possibility of language revitalization. Finally, the language-in-education policy Nepal will be assessed. It has been observed that a mother tongue-based multilingual education (MTB MLE) policy has considerable impact on schoolchildren's learning. However, in Nepal it faces challenges in the areas of guaranteeing a logical sequencing of languages, the development of quality teaching materials, teachers' competence, monitoring, and support.
[1] Lewis, M. Paul and Gary F. Simons.2010. Assessing endangerment: Expanding Fishman's GIDS. www.sil.org/~simonsg/preprint/EGIDS.pdf
Biography:
Yogendra P. Yadava is currently member of the Academic Council heading Department of Mother Tongues at Nepal Academy, and honorary member of Linguistic Society of America. He is professor (emeritus) of linguistics at Tribhuvan University, Kathmandu, Nepal. The major areas of his academic interest include formal syntax, lexicography, Nepalese languages and their documentation, and mother tongue-based multilingual education (MTB MLE). Yadava completed his PhD in linguistics at English and Foreign Languages University (EFLU), Hyderabad (India), writing a dissertation on Movement rules in English and Maithili: their implications for the theory of government and binding (1983). He served as visiting professor at University of Chicago, International Institute of Asian Studies (IIAS, Leiden), and University of Mainz (Germany).
Yadava has edited Readings in Maithili language, literature and culture (Nepal Academy, 1998) and authored Issues in Maithili syntax (Lincom Europa, 1998) and Prajna Maithili-Nepali-English Dictionary (with Nepali and English Glossaries (Nepal Academy) 2017). He has also co-edited a number of books including Topics in Nepalese Linguistics (1999), Notes on Kusunda grammar (TU, 2005), Contemporary issues in Nepalese linguistics (LSN, 2005), The indigenous languages of Nepal (ILN): situation, policy and coordination (NFDIN, 2006), Recent issues in Nepalese linguistics (LSN, 2007)), The report of the national language policy commission (2008)), A grammar of Baram (2010), Himalayan linguistics vol 10.1 In memory of Michael Noonan and David Watters, (UCSB, 2010),  Ethnologue: Languages of Nepal, Kathmandu (CDL & SIL 2012), Prajna Nepali-English Dictionary (with English-Nepali Glossary) (Nepal Academy. 2014), and co-authored (with Amanda Seel and Sadanand Kadel) Medium of Instruction and Languages for Education
(MILE): Ways forward for Education Policy, Planning and Practice in
Nepal (2017).
Yadava has contributed more than three dozens of articles to both national and international journals and has served on the editorial board of a number of peer-reviewed national and international journals. Recently he has been engaged in updating A classified bibliography of Nepalese languages and linguistics, Profiles of Nepalese languages (in Nepali), and Perspectives on mother tongue-based multilingual education in Nepalese context.