Recent News & Updates
Join our free email list about BNAC events and activities.
JOIN NOW
Nepal's Earthquake One Year On: Resilience, Relief and Remembering
Event Date: May 18, 2016
Wednesday 18 May 2016
1pm-5.30pm
in KLT at SOAS University of London
 All welcome. Free entry. Registration via: http://www.soas.ac.uk/south-asia-institute/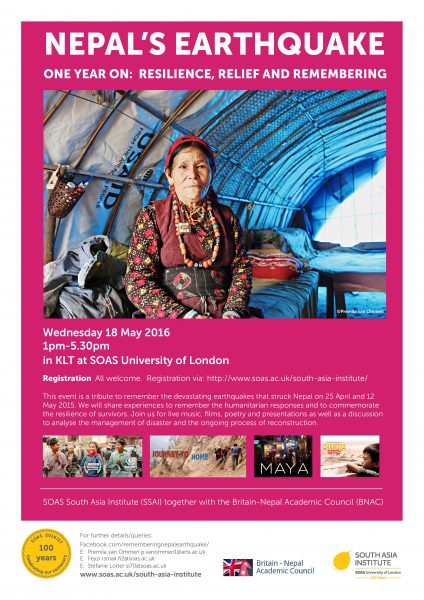 This is an event to remember the earthquakes that struck Nepal on 25 April and 12 May. It features a series of short films, documentaries, poetry, performance and presentations responding to the earthquake. The event will finish with a round-table discussion on disaster management and reconstruction.
Final Programme: (Download PDF)
1:00 pm Introduction : Professor Michael Hutt , Director of SOAS South Asia Institute
Foreward of music and poetry by Lochan Rijal based on poem Bhukumpa by the late Yug Kavi Siddhi Charan Shrestha.
1:15 pm Film: Short Fiction: Chandra  Dir:  Asmita Shrish and Fateme Ahmadi
Shot two days after the May 12 earthquake, chosen as an MN9 Asian Masters and Newcomers Project under Busan Film Festival.  Selected at Freburg Film Festival.
1:25 pm Film: Documentary: Journey to Home Dir: Saral Gurung
Filmed entirely on mobile phone, one of Kathmandu Mountain Film Festival's Seismic Shift selections, following youths aiding their village in the Tibetan speaking village of Nubri, Tsum Valley.
1:30 pm Poetry Performance : Lara Rai
Author, poet and social activist, founder of Junkiri Initiatives, shares her poem on the earthquakes.
1:35 pm Film: Documentary: Team Katla Vlog
Following the incredible initiative by British based student Sarala Thapa, who managed to raise a record breaking £12,000 in two days.
1:55 pm Film: Music Video: Mustang-Back to Nepal  Dir: Tonio Nicolazzi
A tourism initiative with the international Trek Magazine.
2:00 pm Film: Documentary: Return to Nepal Pt 1: Rise of the Artisans Dir: Oliver Wilkins
Emmy-award winning director Oliver Wilkins teams up with producer Doc McKerr, Britain's Goodwill Ambassador to Nepal, an ex-army officer and the first person to trek solo the Great Himalayan Trail in 2013. A project to support tourism in Nepal exploring positive initiatives of communities.
2:10  pm Film: Documentary: What is a House? What is a State?  Dir: Prof. Ben Campbell
A film visiting the damaged rural village of Tengu in Rasuwa in July 2015.
2:35 pm Photo Essay: 12: 12  Presenter: Premila van Ommen
Visual narrative of a personal journey home, visiting family and neighbours in shelters.
2:45 pm      BREAK with refreshments 30 mins
3:15 pm Poetry Performance: Samir Gurung
A poet and actor, one of the founders of British Nepali arts initiative Parcha Creative and Arts.
3:20 pm Film: Documentary:  Return to Nepal Pt 2: Sherpa Unity Voices from the Mountain   
Part 2 of Return to Nepal series by Emmy-award winner director Oliver Wilkins and Doc McKerr.
3:30 pm   Film: Documentary: Helping Thame Recover
Dirs: Rocky Prajapati  and Shashank Shrestha
Following works by Thame Heritage Fund rebuilding the Sherpa area of Thame.
3:35  pm Presentation : Ojesh Singh
An overview of Nepali charity Pasa Puchah Guthi UK on their works regards the earthquakes demonstrating the informal diasporic networks in aiding relief and reconstruction.
3:55 pm Poetry Video: Timi Paila Matrai Sara  By: Word Warriors Nepal
A Search for Common Ground Nepal initiative as a salute to the youth of Nepal's rebuilding efforts.
4:00 pm Film: Maya Dir: Veemsen lama
An award winning short fiction from a former Gurkha soldier turned filmmaker. Maya recently won best film for London's Independent Short Film Festival and continues to clock up more awards.
4:15 pm Film: Animation: In Search of Strength Dir: Sanyukta Shrestha
Talk: "Use of information technology by the Nepali youth communities in   mobilising relief materials after Nepal earthquakes"
Short award winning animation followed by talk from animator and artist Sanyukta Shrestha on the role of internet and technology in facilitating aid, relief and innovation for reconstruction.
4:25  pm Poetry: Music and Video: Stand There By Ujjwala Maharjan and Night Band
A collaboration by Ujjwala Maharjan, one of Nepal's young leading slam poets and Night Band originally performed at Kathmandu's Theatre Village in benefit for quake affected students.
4:30  pm BREAK 15 mins
4:45 pm Music: Namlo Band Feat. Shreya Rai and Ganga Thapa
Members of London's Namlo band, featured on BBC's Global Beats series, perform their their songs.
4:55 pm Discussion Panel : Chair: Dr. Feyzi Ismail, School of Oriental and African Studies
Panel: Prof. Dinesh Paudel (Appalachian State University), Prof. Ed Simpson (School of Oriental and African Studies), Shreya Paudel (former NUS International Students' Officer, Dr. Sara Parker (Liverpool John Moore's University) and  Navin Khadka (BBC).