Recent News & Updates
Join our free email list about BNAC events and activities.
JOIN NOW
Annual Lecture 2017- sponsored by Mahanta Shrestha, Director of Khukuri Beer, London
June 12, 2017
BNAC is pleased to announce that Mr Mahanta Shrestha, the Founding President of the Britain–Nepal and Director of the Khukuri Beer UK Ltd, has graciously agreed to sponsor the 2017 Annual Lecture of the Council.  His donation will help us to bring our speaker from Nepal. We thank him for his generosity.
Professor Pitamber Sharma will be speaking on:
Some Reflections on Federalism and Development Strategy in Nepal (नेपालको संघीयता र विकास रणनीतिमाथि घोत्लिदा).
(Details here: http://bnac.ac.uk/bnac-event/15th-annual-nepal-lecture-2017)
The date, time and venue of the lecture are as follows:
23 November 2017, time 18.00-20.00.
(The lecture will be preceded by a small reception)
Khalili Lecture Theatre
SOAS, Russell Square, London WC1H 0XG
The Annual Lecture is usually delivered, in alternate years, by someone from Nepal and someone from Europe.
Khukuri beer (sponsor's message):
Khukuri is Britain's only distinctive, flavorsome and easy drinking lager beer which celebrates the pride and teamwork of the bravest Nepalese and British. Because only Khukuri is a golden lager with a great depth of flavour, brewed using pure water from the Lake District. The brand takes its name from the traditional knives used in battle by the Nepalese Gurkhas, a brave brigade of soldiers serving in the British army for nearly 200 years and which still used toda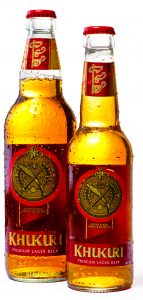 y by the proud, hospitable Nepalese in the homes and countryside of the world's most mountainous country.
The Khukuri brand Monty 'Bahadur' Shrestha the founder is a Nepalese restaurateur and brought Nepalese food to the UK and Ireland 45 years ago. In 2003 he launched a Nepalese beer in Britain to celebrate the deep friendship between Nepal and Britain. He called it Khukuri after the famous fighting knife used for over 200 years by the Gurkhas, the Nepalese soldiers who, since 1816 continue to serve alongside the British army. They are known as the bravest of the brave.
Khukuri is enjoyed in over 10 countries around the world. In the UK you can find Khukuri in a small number of Nepalese and Indian restaurants where it is a favourite quality alternative to the usual brands
For further information please contact: