Recent News & Updates
Join our free email list about BNAC events and activities.
JOIN NOW
Conversation on Covid-19 Situation in Nepal, 12 May 2021
May 07, 2021
Update: record of the live programme: https://www.facebook.com/BNAC.UK/videos/3684468684992796
Wednesday, 12 May 2021, 1000-1200 BST/ 1445-1645 Nepal Time.
 Zoom link: https://us02web.zoom.us/j/86992302944 (ID: 86992302944)
Download the poster in PDF Poster- BNAC-Covid-19 Discussion(1187 kb)
The news across much of South Asia in relation to the Covid-19 pandemic is grim. With much global media attention focusing on India, there has been far less paid to what is happening in Nepal, where infection rates are spiralling, health care provision is under extreme stress, and vaccination rates have been slow. The main purpose of this webinar is to increase awareness in the UK about Covid-19 situation in Nepal. Brief presentations from expert panel members will focus on what we know of infection rates and the spread of Covid-19, testing capacity, the impact on medical infrastructure, the role of and consequences for health workers, and the supply and distribution of vaccines.
After the presentations, there will be a discussion and an opportunity for questions from attendees. Specifically, the event will look into how to support and positively contribute to addressing the issues currently faced.
Panellists
Prof. Sharad Onta, People's Health Movement, Nepal
Sir Jeremy Farrar, Director of the Wellcome Trust
Dr Lhamo Y Sherpa, Sr. Research and M&E Advisor, Ipas, Nepal
Prof. Chandrakala Sharma, Maharajgunj Nursing Campus, Institute of Medicine, Kathmandu, Nepal
Prof. Padam Simkhada, University of Huddersfield, UK
Prof. Ian Harper, University of Edinburgh, UK
Moderator
Dr Jeevan Sharma, University of Edinburgh, UK
Concluding remarks 
Dr Krishna Adhikari, BNAC Chair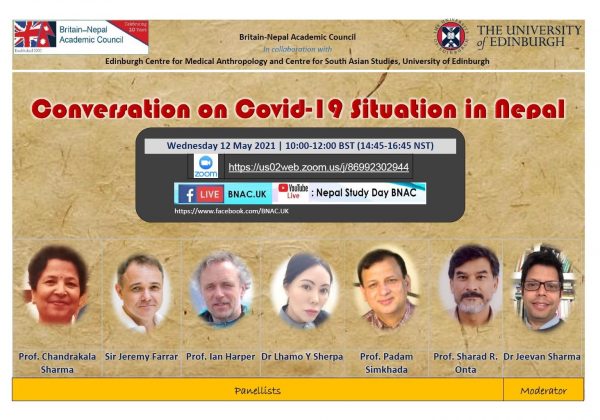 Organisers
Britain Nepal Academic Council, in collaboration with
Edinburgh Centre for Medical Anthropology and Centre for South Asian Studies, University of Edinburgh