Recent News & Updates
Join our free email list about BNAC events and activities.
JOIN NOW
Registration Open for 2019 Nepal Study Days (Nepal Conference) at Royal Botanic Garden Edinburgh and University of Edinburgh
March 22, 2019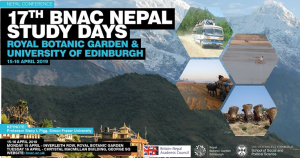 March 23, 2019
Registration is now open for the 2019 Edinburgh Nepal Study Days (Nepal Conference) 15th-16th April 2019.
To register (it takes 2 minutes): please visit this link to Google Form: https://forms.gle/iJUP3mXxG9PQ3Up8A
All paper givers, chairs and general participants must register to attend the programme in Edinburgh.
The conference programme will be posted here later.
Conference abstract book will be posted here.
In order to participate in the programme you must register by 8th April 2019 using the following link: https://forms.gle/iJUP3mXxG9PQ3Up8A
Registration costs £25.  BNAC membership allows you free participation in all BNAC events including Nepal Study Days (saving you £25 registration fee at the NSD, but there will be a small contribution towards lunch to be paid). Annual Associate and Ordinary membership fees are £15 and 30 respectively. £3 and £6 discount is available for renewal through standing orders/direct debits for associate and ordinary members respectively. To become a member please visit http://bnac.ac.uk/membership/). To pay registration or membership fee online, please contact Dr Fraser Sugden (Treasurer) at f.sugden@bham.ac.uk .
We suggest you book your accommodation in Edinburgh well in advance. The conference venue will be 'Royal Botanical Garden Edinburgh' (Inverleith Row, Edinburgh) and the University of Edinburgh (15a George Square, Edinburgh).
Please visit our website (www. http://bnac.ac.uk/) for updates and further information.
We are very much looking forward to your presentation and please do not hesitate to contact us when you have further questions.
BNAC- NSD 2018 Organizing Committee Edinburgh
Website: www.bnac.ac.uk
Subscribe BNAC mailing list: https://www.jiscmail.ac.uk/cgi-bin/webadmin?SUBED1=BNAC&A=1
Facebook: https://www.facebook.com/BNAC.UK
Twitter: @BritainNepalAC