Recent News & Updates
Join our free email list about BNAC events and activities.
JOIN NOW
Prof. Sushan Acharya to Deliver 19th BNAC Annual Lecture (2021)
July 05, 2021
Dr Sushan Acharya, Professor of Education at the Central Department of Education, Tribhuvan University, Nepal, will deliver the BNAC's 19th Annual Nepal Lecture, on "We didn't get to study so we learned to weave":  Women, indigenous learning and functional literacy in Nepal ("हामीले पढ्न पाएनौँ, त्यसैले बुन्न सिक्यौँ": नेपालमा महिला, रैथाने सिकाइ र व्यावहारिक साक्षरता).
The lecture generally takes place in November, but dates are yet to be confirmed.
Prof.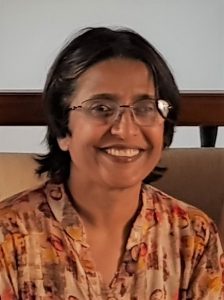 Acharya who obtained a doctorate in education (ED.D) from the University of Massachusetts in 1999, has been conducting research studies and policy advocacies in education sector for more than 20 years. She is interested in non-formal education and life long learning. Sushan is a critic of the dominant adult literacy approaches for their lack of understanding of indigenous intergenerational learning among adult women. She has made contributions to Nepal's national policy processes by serving as a member and expert in high level education commissions and consultation groups.
(See the abstract of the lecture and biography of the speaker here)
BNAC's Chair Dr Krishna Adhikari said, "The Annual Lecture,  which is one of the core programmes of the Council, is aimed at promoting knowledge exchange  among scholars engaged in Nepal and its cultural extension. We are delighted to have Prof. Acharya this year to give a lecture on an important, yet often neglected subject, concerning gender, education and traditional knowledge system."
This year's lecture is the 19th in the series. There is a tradition to alternate speakers from Nepal and Europe. From 2021, BNAC has decided to expand the European regional remit, which means that Nepal-scholars based anywhere in the world could be invited for the lecture.
Annual Lectures are free public events, and anyone could join. However, participants may be asked to register in advance. This year we are hoping to organise the lecture physically in SOAS, London,  permitting the unfolding covid-19 circumstances. Appropriate decision will be taken nearer the time, assessing the circumstances as they unfold, and we may opt for a virtual lecture. Watch this space for updates.
List of BNAC's past lectures is as follows:
 Date
 Series
 Year
Speaker
Institution
Title of the presentation
17/05/2002
1st
2002
Dr Pratyoush Onta
Martin Chautari
In Search of a Narrative: Stories of Democratic Experiments in
Post-1990 Nepal
27/06/2003
2nd
2003
Prof. Alan Macfarlane
Cambridge
Digital Himalaya: Nepal in Context
2004
3rd
2004
Manjushree Thapa
Anti Rana resistance and (??)
16/11/2005
4th
2005
Prof. Anthony Costello
UCL
Power, Placebos and Participation: The Struggle for Health in Rural Nepal
16/11/2006
5th
2006
Prof. Kedar Bhakta Mathema
TU
Crisis in Education: Challenges for the Future Government of Nepal.
29/11/2007
Can-celled
2007
Prof. David Seddon
 East Anglia
Milestones in the Long Road to Democracy in Nepal

[announced but cancelled because of illness]

06/11/2008
6th
2008
Ms. Sapana Pradhan Malla
 Advocate
Inclusive Republican Democracy and Women's Rights in Nepal
10/09/2009
7th
2009
Prof. Alex Michaels
University of Heidelberg
Religion and Politics in Contemporary Nepal: The Case of the Pashupatinath Temple
20/10/2010
8th
2010
Dr Rajendra Pradhan
Nepa School
Women's Rights Cases in the Supreme Court of Nepal
31/10/2011
9th
2011
Dr Anne de Sales
CNRS, Paris
Our god Braha saved us from our wrong thinking:  time, identity and historical change in the hills of Nepal
19/10/2012
10th
2012
Dr Ananda Mohan Bhattarai
Supreme Court
The Protection of Himalayan Biodiversity: Why a Regional Legal Framework?
28/11/2013
11th
2013
Prof. Piers Blakie
East Anglia
Reflections on Thirty Years of Research in Nepal: The Politics of Subjects, Researchers and Audiences
19/11/2014
12th
2014
Prof. Robin Coningham (with Kosh Prasad Acharya)
Durham/ Pashupati Area Dev Trust
Tilaurakot-Kapilavastu: New Archaeological Discoveries in the Nepal
12/11/2015
13th
2015
Prof. Abhi Subedi
Tribhuvan University
The Unique Blend of Literature, Politics, and History
17/11/2016
14th
2016
Ms. Mandira Sharma
University of Essex
Transitional Justice, Accountability, and the Rule of Law in Nepal
23/11/2017
15th
2017
Prof. Pitamber Sharma
National Planning Commission
Some Reflections on Federalism and Development Strategy in Nepal
01/11/2018
16th
2018
Prof. Dr Joanna Pfaff-Czarnecka
Bielefeld University
Belonging to Academia? Higher Education, Inequality, and Development
14/11/2019
17th
2019
Prof. Yodenra Yadava
Nepal Academy
Nepal's Contemporary Linguistic Landscape:  Its Implications for Language Endangerment and Mother Tongue-Based Multilingual Education
05/11/2020
18th
2020
Prof. Martin Gaenszle
University of Vienna
Satyahangma Rituals: Commemorating Phalgunanda in Eastern Nepal