Recent News & Updates
Join our free email list about BNAC events and activities.
JOIN NOW
Call for applications for the 'BNAC PhD Dissertation Prize 2018'
December 25, 2017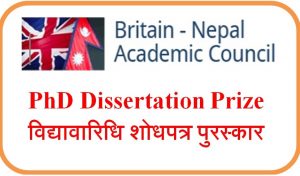 Call for applications for the 'BNAC PhD Dissertation Prize 2018'
BNAC is pleased to announce that a 'PhD Dissertation Prize' of £250 has been set up to encourage and reward a PhD student or recent PhD graduate. Students registered for a PhD in South Asia, the UK, or in other EU countries, or who have graduated within the last two years, are invited to apply for the 2018 Prize by the end of January 2018 with the following specifications:
Applicants should submit a chapter or a published paper from their PhD thesis not exceeding 10,000 words by January 31st, 2018;

The PhD paper should be in the fields of the social sciences or humanities;

Applicants must either be a current PhD student or have passed their PhD no earlier than (i.e. on or after) the 1st January 2016 (BNAC may require a copy of the graduation certificate to be submitted);

The paper should be about Nepal or the Nepali cultural world, broadly conceived; and

The prize winner is encouraged (not obliged) to attend BNAC's Nepal Study Days (conference) to be held in Durham on 16 and 17th April, 2018, and to present the paper there.
The winner will be selected on a competitive basis by the BNAC PhD Dissertation Prize sub-committee.
Please send your application to: krishna.adhikari@anthro.ox.ac.uk
Download the call for application in PDF.