Recent News & Updates
Join our free email list about BNAC events and activities.
JOIN NOW
Annual Lecture 2019- sponsored by Krishna P. Timalsena, Director of Kris Food, London
June 24, 2019
BNAC is pleased to announce that Mr Krishna Prasad Timalsena, the Founding President of the Nepalese Chef Association, UK  and Proprietor, Kris Food Limited, London, has graciously agreed to sponsor the 2019 Annual Lecture of the Council.  His donation will help us to bring our speaker from Nepal. We thank him for his generosity.
This year's lecture will be delivered by Professor Yogendra P. Yadava, Tribhuvan University, Nepal, and Pragya, Nepal Academy, who will be speaking on:
'Nepal's Contemporary Linguistic Landscape:  Its Implications for Language Endangerment and Mother Tongue-Based Multilingual Education'
(नेपालमा समसामयिक भाषिक परिदृश्य : भाषा जोखिमीकरण र मातृभाषामा आधारित बहुभाषिक शिक्षा)
The date, time and venue of the lecture are as follows:
Date:  Thursday, 14 November 2019
Time: Reception to start at 17.30 followed by the lecture at 18.30
Venue:  SOAS, Russell Square, London WC1H 0XG
Hosted by: SOAS, South Asian Institute.
The Annual Lecture is usually delivered, in alternate years, by someone from Nepal and someone from Europe.
Kris Food Limited (sponsor's message):

The proprietor of Kris Food Limited, Mr Timalsena said:
"I am delighted to collaborate with the Britain Nepal Academic Council, by supporting one of its main events in 2019. I am glad that our sponsorship will enable BNAC to bring a prominent academician from Nepal to deliver the BNAC's 17th Annual Nepal Lecture in London, in November 2019. Kris Food Limited takes a pride in collaborating with the BNAC to establish and nurture the Annual Nepal Lecture series, one of the most important Nepal-related academic events in the UK, and Europe. This year we have the privilege of joining a list of esteemed entrepreneurs who care passionately about the academic initiatives concerning Nepal."
"Kris Food Limited is an independent supplier of foods and vegetables, delivering quality multi-temperature catering products to chefs and caterers since 2008. Whether it's food for buffets, banqueting or catering for meetings and conferences our vast range of chilled, ambient and frozen foods consist of essential catering products which mean you can cater for any event. The quality of our service and the variety of our range provide our customers with the perfect foundation to exceed the expectations of their customers when it comes to providing catered foods, whilst our non-food product range means you won't need to shop anywhere else." krisfoods.com
 Fo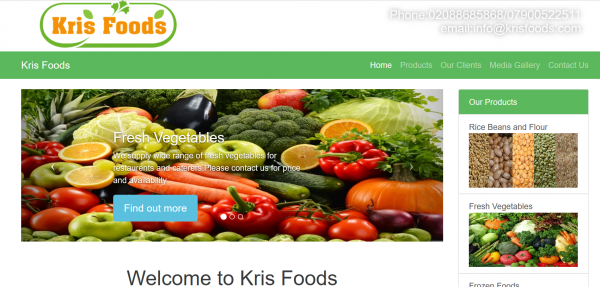 r further information, please contact:
7 Southbourne Gardens,
Ruislip
HA4 9TY
Phone:02088685868 / 07900522511
email:info@krisfoods.com
krisfoods.com