Recent News & Updates
Join our free email list about BNAC events and activities.
JOIN NOW
Round-table Discussion on Nepal's CA Elections Organised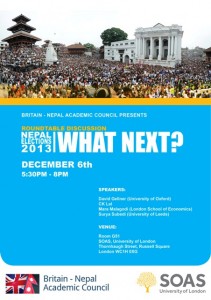 A good turnout filled the room at the Nepal Elections 2013 Roundtable Discussion, organized by the BNAC at SOAS on 6 December. The event opened with presentations from David Gellner, Mara Malagodi and Surya Subedi from the BNAC, and from the well-known political commentator and analyst of Nepal CK Lal. The discussion was then opened to the floor, and a number of attendees shared their thoughts on the election process, the results, and what they mean for the future of Nepal.